Heritage Trees
Content taken from a survey of the trees conducted by Andy Dodd, Technical Support – Historic Auckland Conservancy in 2004.
In addition to their historic context these trees also derive significance from their aesthetic contribution to the landscape and their ability to explain activities occurring on Motuihe. Most of the trees were planted during the quarantine period 1872 to 1941. They were largely donated by wealthy benefactors to be planted by the internees for the purpose of providing fresh air and exercise and to beautify the island. It is probable that the olive grove was originally established when Brown and Campbell owned the island (1843 to 1872) but it is impossible to verify this with any certainty. Most of these trees are on the north western headland and the isthmus of Motuihe.
Norfolk Pines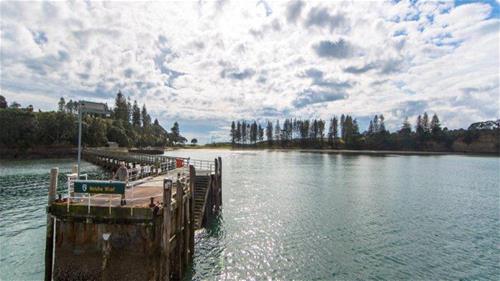 The Norfolk pines give the iconic view of Motuihe as you approach the wharf.
There are numerous Norfolk Pines on the road up to the headland, on the isthmus and also across the main part of the island where they were used as a wind break when it was a farm. Motuihe is the only known place other than Norfolk Island where Norfolk pines are naturalized.
The Norfolk pines are considered an iconic part of the Motuihe landscape.
Olive trees
The olive grove is between the headland road and the Surgeon's Cottage. These trees do produce fruit that has been collected by some families over decades.
Fruit trees
The farm had an orchard of pear and Christmas plum trees. The remnants still remain and they give their name to Orchard Bush through which the Saddleback track winds.
Morton Bay Figs
There are two magnificent examples on the main avenue up to the headland near the toilet block.
Gallipoli Aleppo Pines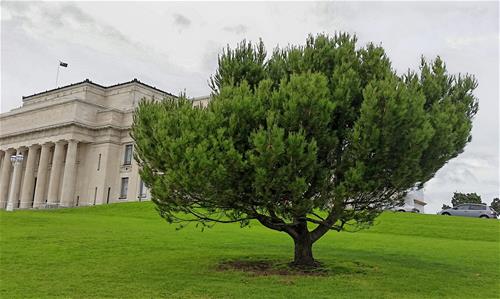 There were 10 of these historic trees planted after the First WW from seed brought back by soldiers from Gallipoli. Some were on the cliffs of the headland, some on the low cliff opposite the kiosk and the biggest group up above the Surgeon's cottage. They were all cut down because they were a danger to the public being over 100 years old. However, one seedling survives and is fenced and labeled above the Surgeon's Cottage. The Aleppo pine growing on the lawn outside the north entrance to the Auckland War memorial Museum was planted in 2003 from seed taken from Motuihe Island.
Other pines
There were a number of other types of pine trees planted on the island eg Hoop pine, Perth Christmas tree, Austrian pine, Brown pine, Canary Island pine, and the island has the southern-most example of Scots pine. Many of these trees were removed because of their danger to the public and also because of the restoration of the island to return the native bush.